Allows you to buy or register Photo Backup.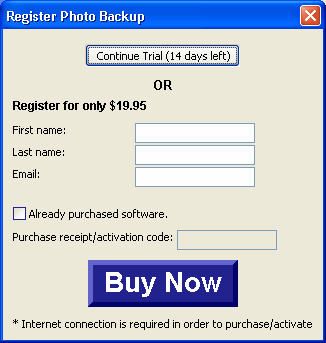 Continue Trial
Click this button if you want to continue your evaluation of Photo Backup.
First name
Enter your first name.
Last name
Enter your last name.
Email
Type your email address. This information is required. Make sure that this information is correct. OntheGoSoft emails your activation code to this email address. You can then click the Buy Now button to purchase Photo Backup.
Already purchased software
Select this check box if you have already paid for Photo Backup. You must enter your activation code in the next box.
Purchase receipt/activation code
Enter the activation code that you received in email. You can copy and paste the code into this box. In the email, select the code and press CTRL + C on the keyboard. Click the Purchase receipt/activation code box and press CTRL + V on the keyboard. This places the activation code in the box.
Buy Now
Click this button if you want to purchase Photo Backup. A web page opens, allowing you to enter information to buy the software.

Important
| | |
| --- | --- |
| • | You must have an active Internet connection for this feature to work. |

Related Topics