Copies files from the backup to a directory on your computer. When the restore process is complete, a message displays the results of the process.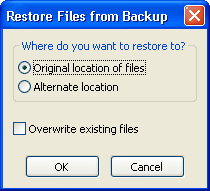 Original location of files
Copies the files to their original location.
Alternate location
Select this option to display a browse dialog box. You can select the folder in which you want to copy files.
Overwrite existing files
Click this check box to copy all files from the backup disk to the hard drive. If this check box is cleared, only files that do not appear on the hard drive are copied.

Related Topics
Restore Current Folder command (Restore menu)
Restoring photos from an archive