You can create an index CD so that, in case you lose a hard drive, you can easily restore your photos with Photo Backup.
1.

Click the

Index CD

button. A series of message boxes appear, preparing for the burn process.
2.

On the

Prepare to Burn Index CD

dialog box, select the drive you want in the

Drive

list. The dialog box displays the status of the drive in red.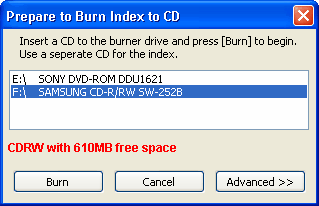 3.

Click the

Burn

button. The

Preparing to Burn CD

and

Burning

Progress

message boxes appear. Your drive tray might open and shut at the end of this process.

Related Topics
Restoring photos from an archive
Index CD button (Main toolbar)