After you set up an archive, you are ready to back up your photos to backup disks. For any archive, Photo Backup backs up only the new files that you add to an archive or photos that you edit. If the software finds the same photo in different directories for the archive, the software archives and burns only one photo.
The photos that need backing up display a pink label and are marked Not backed up.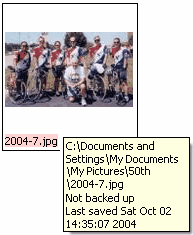 To complete the backup process, you can click the Make Backup button or Backup > Make Backup Now. After you back up your photos, the photo displays a white label color in the main window.
If you want to schedule backups at regular times, you can click Tools > Archive Settings and select the Scheduler tab.

Related Topics
Restoring photos from an archive