Support
Welcome to our support center. Below are solutions to frequent problems.
If you need assistance with something different, you can contact us.
---
Activation problems
In case you didn't receive the automated email, please read the program activation instructions.
Our programs use the Internet to activate, but can also be activated on offline computers. If your computer is not connected to the Internet, or in case some content filter is blocking the program from accessing the Internet, these instructions for offline activation should help.
Purchase receipt retrieval
Lost your purchase receipt? Enter your email here and it will be sent to you.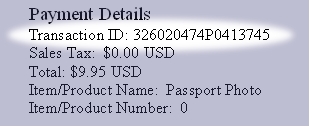 Changed email? Use the Transaction ID from Paypal.
Install problems
If you get a warning, saying that the installer is corrupt, and there may be a virus, it usually is a result of an incomplete download. Click here for instructions to force a fresh download.
Alternative payment processor
In case you cannot pay using PayPal you can also purchase our programs from Regnow using the following payment methods:
Credit Cards - immediate delivery.
Check / Money Order - takes 3-4 days, depending on how long it takes for the transfer to complete.
Phone or Fax - you can provide your credit card information by calling or sending a fax. Your activation code is delivered once the transaction completes.
Invoice - a printed invoice can be sent to your address with payment information.
To pay with Regnow using one of these methods, click on the buy links below:

Passport Photo - $9.95
Photo Backup - $29.95

---
Solution to common problems
Program activation instructions
We send an automated email describing how to activate the program after the purchase is complete. Sometimes, due to communication problems or spam filters these emails are lost. Here are the same instructions:

Once you complete the purchase, you will receive a purchase receipt. This receipt is 10 characters long, and usually starts with 'PB'.
For example, it might be: PB1d39ab09 (this is not a valid purchase receipt).
When the program starts, it will ask you to register your copy. Enter your name and email (the same email you used while purchasing), indicate that you already purchased, by clicking on Already purchased the software, enter your purchase receipt in the Purchase receipt / activation code field and click on Activate.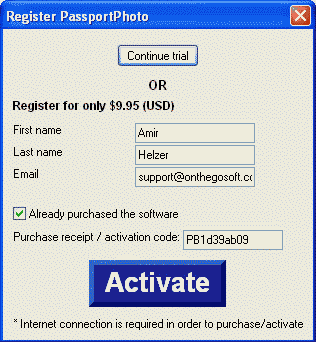 The program would connect to the activation server and become fully active, without the limitation of the trial version.
If this doesn't happen, you may be suffering from some sort of communication problem. Keep reading here for offline activation instructions.
Offline activation instructions
Even if your computer is not connected to the Internet, follow the activation instructions from above, and click on Activate. In case the program cannot access the activation server, it will output your installation ID, which can be used to get an activation code for your PC. It will look like this: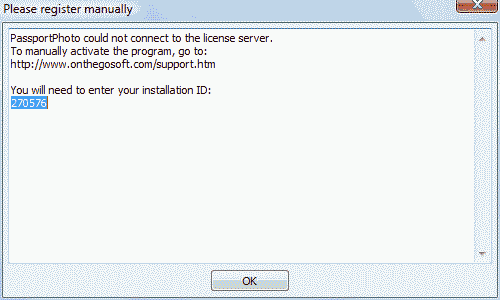 Take the installation ID from Passport Photo and type it to the following form. You will also need to enter your name, email and purchase receipt.
After you click on Generate activation code, you will receive a 32 digit activation code, unique to your offline computer. Enter it into the Purchase receipt / activation code field in the offline computer and click on Activate. The program would become active, without trying to access the Internet.

If you're having problems, please contact us, indicating the installation ID and we'll help.
Forcing a fresh download
Sometimes, due to communication problems, your download may not be complete, and the installer would tell you that it is corrupt, and may be infected with a virus.
Most of the time, the cause of this message is an incomplete download. To re-download, you should hold down the [Ctrl] key when clicking on the download link. This would tell your web browser to initiate a new download, rather than provide you with the copy that it has in its memory (cache).