Do you like to send home photos when going on vacation?
Shrink Pic 1.6 makes it especially easy!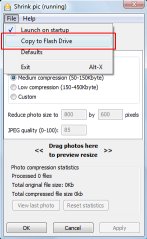 Shrink Pic now fully supports portable mode. This means, it can run without being installed. Shrink Pic can copy itself to any USB memory, including your digital camera or a memory stick.
Then, you can run it on any PC without installing. After it finishes running, it saves its setting back to the USB memory and leaves no trace behind.
To use this new feature:
Start Shrink Pic.
Connect a Flash drive to the PC (your digital camera is one too).
Click on File->Copy to Flash Drive.

You're done. Now, when you connect that camera or flash drive to any PC, you'll find a shortcut for Shrink Pic on it. Double click on the shortcut and Shrink Pic starts, running directly from the flash drive.
Any photos you attach by email or upload (like uploads to your Yahoo! or Google album) will automatically resize. Sending photos will be about 20 times faster than for the full size photos (so you'll have more time to enjoy your trip and lower Internet Cafe bills).
Shrink Pic is free for any personal or commercial use (provided it's left intact). Use our download page to get it.