How are you printing?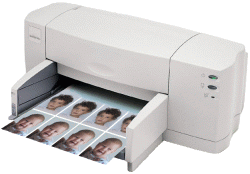 Are you using your own printer to print passport pictures?
We'd love to know:
What kind of printer you're using (brand and model)?
What kind of paper?
How happy are you with the prints you're getting?
What other people are using for printing passport photos
Manufacturer
Model
Paper
HP
Photosmart C4180
All-in-one and Kodak photo paper
C4200
Kodak glossy paper
3200 series

Canon Semi Gloss
Office Max Glossy
HP glossy paper

Photosmart 8250
4×6 Advanced Photo Paper – Tabbed
D7560
Photosmart 2575
Canon
IP4300
Kodak Gloss 4″ x 6″ or 13cm x 18cm
IP4500
IP5000
Canon paper
Selphy CP740
Epson
Stylus DX6000

Kodak glossy
Epson matte photo paper

Picture Mate
Stylus Photo R200

Epson Premium Glossy
Different types, depending on application.

Photo R300
Epson A4 Photo Paper S042159
Photo RX685
Epson A4 Photo Paper S042159
Fujifilm
NX 500 photolab
Lexmark
7550
Generic from Aldi
Kodak
ESP 5 all-in-one printer
Kodak glossy paper
* People are using Passport Photo to print using these printers.
What are you using?
Leave a comment telling us what you're using. We update this page regularly.