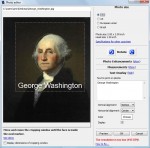 Passport Photo 2.1.0 adds the ability to write text on the photos.
Who needs something like this?
Identity documents, such as driver license in some countries require that names and IDs be printed on the photo. Passport Photo lets you select the position of the text and its color. Text size is calculated automatically to fit the available space.
To use this, just click on the Text Overlay heading in the image editor.
This upgrade is free to all registered users. As always, you can get it by downloading the recent version of Passport Photo from our download page.
* Of course, the text is only added when printing. The original photo is not modified.