Common problems in pictures for passports
When you take pictures for a passport, look out for these common mistakes:
to verify that the photo you're printing looks good, and is free from errors, you can use the Preview function in Passport Photo's editor. The preview will open the photo you cropped and will only show the part of the photo that gets printed.
You can expand the preview window so that the printed image shows in full detail, making it easier to spot problems.
---
Too small object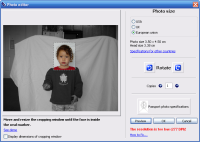 Photo with too small object
Problem
This picture was taken with a 3 Mega pixel camera, with good natural ambient light and the object (Roni) is looking straight at the camera.

So, what's wrong with it?
I've taken the photo from too far away, and her face fills only a very small part of the picture!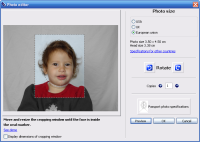 Photo with large enough object
Solution
This photo is much better. The object is much closer and occupies a larger part of the photo.
The resolution would be much better and printing results should be good.

The program gives a warning when the printing resolution is bellow 300DPI (dots per inch). Photos that are printed at 300DPI and higher usually come out well.
---
Poor lighting conditions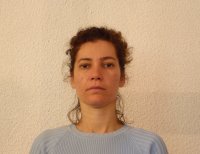 Photo taken with too weak lighting
Problem
This picture was taken with insufficient ambient lighting. Although we can see perfectly well in a room with weak lighting, most digital cameras produce grainy photos when shooting in dark conditions.

If we zoom in to this picture, we'll be able to see the pixels. This will also show up in the printed photo.

Solution
Try taking the photos with indirect natural light. If you can't do that (because you may live in England), take the picture with as bright light as you can, force the camera to apply flash and stand close to the camera. This way, the camera's flash would be more effective.

If you use flash, make sure the exposure is not too long, so that you don't pick up too much picture noise.
---
Reflection from the background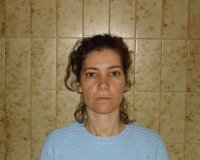 Photo showing background reflection
Problem
The background in this picture is reflective. You may not notice it if you just look at this wall, but when you take a picture - with flash - the flash reflects from it causes the background to shine.

It's most likely that this kind of photo be rejected by the passport office, because the reflections on the wall make it difficult for a computer to process this photo.

Solution
Stand in front of a wall that's not glossy at all. If all the rooms in your house are painted with a glossy color, you can also stand in front of a white sheet. Bed sheets are almost never glossy or reflective.