Archive digital photos to CD or DVD
Photo Backup helps you archive digital photos quickly and easily. The archive is easy to manage, access and navigate.

One click is all it takes to keep the archive update and complete.


Highlights

Split gigabytes of photos to multiple CD or DVD discs
Create a graphical index with clear thumbnails
Archive only new photos every time
Supports all compressed and RAW photo formats
---
1) Select folders to archive

Select the folders that contain digital photos. Once a folder is selected, Photo Backup makes sure that its contents are included in the archive.

When digital photos are added to the folder (or to any folder under it) it will be marked for storage. Next time you press BACKUP new photos will be copied to CD or DVD.

You don't need to remember what's on archive, or when was the last time you made backup - this is handled automatically.
---
2) Burn CDs / DVDs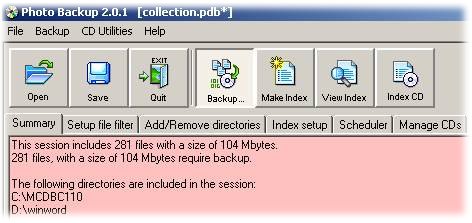 Just click BACKUP. The first time you use it, all files are burned to CDs (or to DVDs). Next time, only new or modified files are archived.



When a CD is filled, it will be ejected and you will be asked for another. There is no need to remember which file is written to every CD. An index shows where every photo is stored.
---
3) Create an index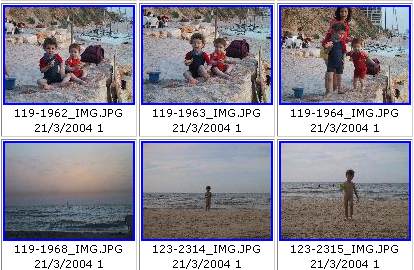 Create an HTML index, which shows the location of each photo in the archive.
Two indexes are generated automatically - graphical with thumbnails of photos and textual with complete details.

The graphical index includes thumbnails for all most popular photo formats - including compressed formats such as JPG, TIF, PNG, GIF and RAW formats of most digital cameras - including CRW, NEF, RAF, ORF, MRW and DCR.
---
Archive internals
Photo Backup keeps all files in their original formats. If a file on the archive is damaged, all other files remain intact, and can be safely restored.

A robust scheduler can help you automate the archive by launching at prefetermined times or when there is new data to backup.
Restore from backup

Restoring from backup very easy. Just insert a CD with backup to a drive and click RESTORE.

You can restore to the same computer or to other computers. This way, you can create duplicates in other places.
---
Try it for free
Download now and find out for yourself.
Get your FREE evaluation version and start using it. The evaluation version is fully functional. You can use it to make full backup, with no limitation on size, folders or spanned CDs.