---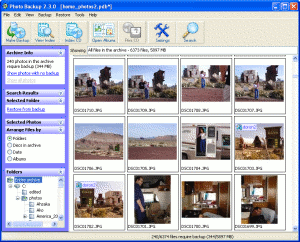 Automated backup
You no longer have to keep track of backing up your photos. Photo Backup does that for you. Photo Backup will scan your hard drive and look for folders that contain photos. You can then specify which folder needs to have backup. From there, Photo Backup takes over. It will make sure that every new photo that appears on the hard drive is being backed up.
---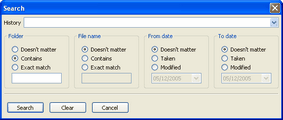 Locate and retrieve photos
Having a huge archive without the ability to quickly find photos you're looking for, just doesn't help. Photo Backup lets you search the archive and quickly retrieve the photos you need. You can view thumbnails arranged according folders, dates or discs. Then, once you find the photos you need, just click on Restore and have Photo Backup retrieve them from the archive.
When you retrieve photos, they can be copied to the same folders or any other folder along with complete attributes.

---
Fits into your existing workflow
Photo Backup easily integrates with your existing flow for processing digital photos. Whether you're a professional photographer, or take photos as a hobby, you probably have your own way of working with digital photos.
Photo Backup tracks the photos on your hard drive, so even if they move the archive remains in tact.
Photo Backup stores photos in the archive with their original format and in a directory structure similar to that on your hard drive. This way, you can browse the archive using Photo Backup, or simply with Windows Explorer.