How do I enable DMA mode on CD and DVD burner drives?
About this technical note
This document describes how to enable DMA operation for CD or DVD burner drives, regardless of the burning software you use. It includes screenshots of Windows XP. Windows 2000 setup is very similar with the same screens. For Windows 98 and Windows Me slightly different windows are involved.
What is DMA mode?
DMA (Direct memory access) mode is a high performance mode for transferring data to and from devices, in particular, to CD and DVD burner devices.
The burner devices can function in either DMA or PIO modes. DMA mode allows the processor to transfer large pieces of data with very little software overhead - therefore requiring low CPU utilization. In this mode, high speed burning can be performed in background with other programs running.
PIO mode requires CPU processing for every few bytes sent to the device, so that CPU utilization becomes very high when trying to burn at high speeds.
Which transfer modes are supported by Photo Backup?
Photo Backup includes a high performance driver, which can operate at both PIO and DMA modes. In order to burn at high speeds you should set the burner drive to operate at DMA mode. This will allow the highest burning rates to work in the background of other applications, with minimal risk of failed burns.
Setting up the burner drive to operate with DMA mode
In order to verify that your drive works in DMA mode, or to change it to DMA mode, follow these steps.
Open the hardware setting dialog of Windows. To do this, right-click on 'My computer' and select Properties.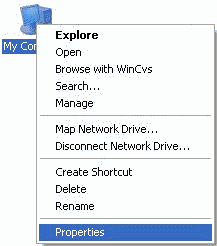 Then, choose the 'Hardware' tab and click on 'Device Manager'.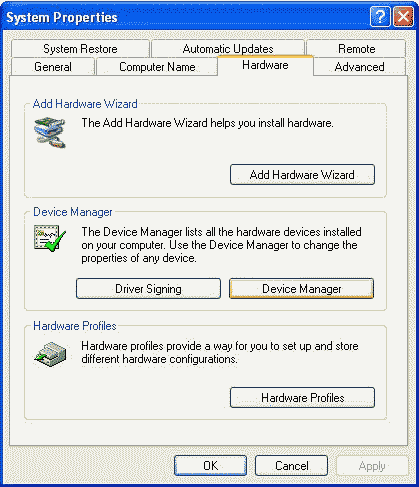 Each burner drive is controlled by an IDE ATA/ATAPI controller. There are probably two controllers in your computer, each with two devices.
The drive letter of each burner determines the controller and device responsible for it. The table below can be used to determine the correct controller for your burner drive.
| | | |
| --- | --- | --- |
| Drive letter | IDE ATA/ATAPI controller | Device |
| C:\ | Primary | 0 |
| D:\ | Primary | 1 |
| E:\ | Secondary | 0 |
| F:\ | Secondary | 1 |
Look for the 'IDE ATA/ATAPI' controllers icon and expand it by clicking on the (+) sign next to it. Select either the Primary or secondary IDE channel, which controls your burner drive, right click on it and select Properties.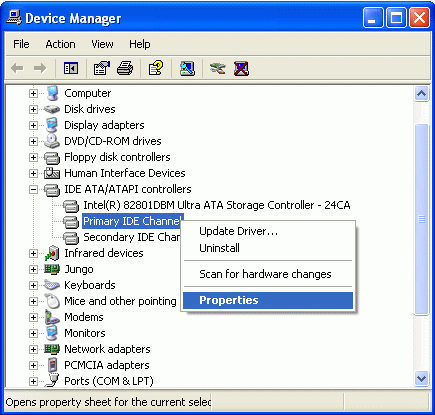 Go to the 'Advanced settings' tab, and the device that you want to set (Device 0 or Device 1). The example below shows that drive D:\ works in PIO only mode. You should modify this to 'DMA if available' mode, to let Windows select DMA mode if it is supported by your burner (it usually is).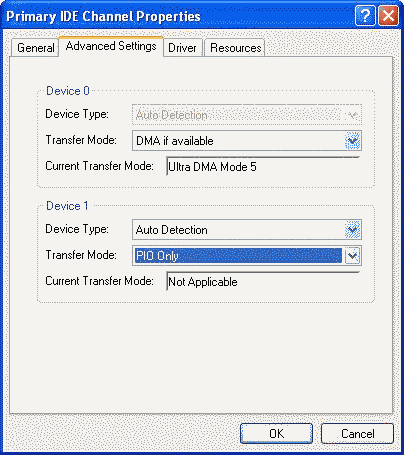 Then, click OK. Windows will ask you if you want to reboot, for these settings to take effect. You should allow it.
After booting up, the burner drive should work much faster and consume much less CPU power.
What if this doesn't work?
Windows XP only
Windows XP reverts to PIO mode after several attempts to use DMA mode have failed. If this had happened, Windows XP will not return to DMA mode even if you instruct it to do so. Microsoft considers this a safeguard, but many users find this feature confusing. In order to manually reset the access mode, you can uninstall the drive and reboot. Windows will detect the drive at the first boot and use it. You can then set the access mode to DMA, and Windows will use that setting. Of course, if there is a real problem using DMA mode, Windows will revert to PIO mode again. You may want to consider alternative burning software and verify that it doesn't cause Windows to retreat to PIO mode.
All platforms
Some (rare) burners have problems working in DMA mode. If, after you reboot, the burner driver is not detected, or it doesn't function correctly, you should disable the DMA mode and reboot. If reboot does not fix it, you may uninstall the IDE controller. Windows plug and play would find this device and scan for connected drives. This only occurs for a very small number of burner drives, with very old firmware.
Protect your digital photos with a professional backup program
Incremental backup - make sure all photos are on archive

Instead of manually going through your photos and selecting which ones you need to burn, use a program that keeps track of things. Photo Backup keeps a record of the backup history. It knows which photos are new or changed and would only burn them every time you use it.

Search the archive as if you're searching your hard drive

Photo Backup lets you search your archive of CDs and DVDs as if you were searching files on your hard drive. You can search to browse, according to file names, folders or dates. You can even organize your photos in special albums that Photo Backup maintains - to make search even easier.

Recall photo from the archive - quickly and easily

Retrieving photos from the archive doesn't get any easier than this. Select the thumbnails of the photos you want to recall. Photo Backup will get them for you from your archive CDs/DVDs and will copy them back to your hard drive.

We've even got a free version!

Don't need all the features of the commercial version? You're welcome to use Photo Backup LE - completely for free.

To try it out, download Photo Backup and start backing up your digital photos!